There was a great attendance of the All Age Worship, Parade and Remembrance Service on Sunday 10th November 19. The Church was decorated in poppies and looked lovely!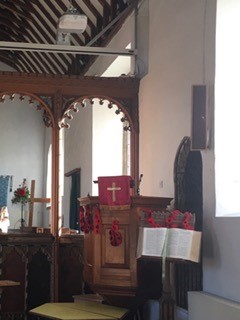 The next day was Armistice Day and a Service was held around the Memorial . There was an amazing appearance by a couple dressed in WW1 attire on horses who came to pay their respects .
Lending authenticity to the service around the cenotaph on Armistice Day was Bilbo, the sturdier horse, which would have been ridden by an officer in WW1 or hauled artillery pieces. Prince would probably have been coupled up with another horse to pull an ambulance. Woman in WW1 would have trained the horses.
Thank you to all those people who contributed to the annual Poppy Appeal in Pakefield Church. This year, a collection of £162.93p was raised -prompting the comment "Excellent amount – well done" from Peter Mitchell one of the local organisers. Indeed it was the highest sum ever raised in our Church.
Whilst we tend to think of the dwindling wonderful WW.2 veterans being supported, sadly a whole new raft of veterans from subsequent conflicts are receiving aid to help them and their families to adjust to civilian life One such case brought to mind is that of the teenage soldier, serving in Afghanistan, who had both legs and an arm blown off and yet, with this support, plus advances in medical care, has been able to cope and live a reasonable life.