Hildesley Court is a local Sheltered Housing scheme with flats and bedsits for the over 60's. A group of our congregation visit their once a month on a Monday morning and lead a short (usually Holy Communion) service for and with the residents.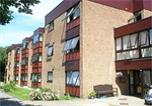 OUR DECEMBER SERVICE
Our service was prepared by Sue based around the theme of Advent and she opened the service explaining the meaning of Advent, the preparation of Christmas and Our Lords first coming.
This was the final meeting of 2018, so carols were sung as part of our service. The hymns/ carols we sung were – Now Thank We all our God, O Little Town of Bethlehem and O Come All Ye Faithful.
The readings, taken from the Book of Luke were shared by Bea and Jean L and a Christmas reading was shared by Maggie. Rev. Sharon joined us in the service, Sharon and Anne gave the Blessed Sacraments, after Anne had given a short address .
We would love to welcome more people to our services at Hildesley court where we always receive such a warm welcome from the residents. Our next service will be on January 14th 2019.