Hildesley Court is a local Sheltered Housing scheme with flats and bedsits for the over 60's. A group of our congregation visit their once a month on a Monday morning and lead a short (usually Holy Communion) service for and with the residents.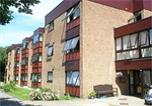 NEWS FROM HILDESLEY COURT
We gathered on Monday 22nd, Bea led this month with a miscellany of thoughts; the colours of Autumn, news of our Harvest Festival in church and reporting on Bishop Graham's visit to Pakefield on his farewell pilgrimage of the diocese. A short service on the green outside the church and walking to Sparrows' Nest. Hymns, bible readings, poem and prayers reflected all of these. Anne's message was on a similar theme which was followed by Communion.
Missing from our gathering was Jean L who is still recovering from her accident, we wish her well and look forward to seeing her again as soon as possible.
The service arranged for November has had to be cancelled due to work being carried out at Hildesley. We meet again on the 10th December.
WANTED
Elizabeth is once again collecting your unwanted gifts for the gift stall at the Christmas Fayre. She is willing to collect items please ring 560921.
Thank you.