Hildesley Court is a local Sheltered Housing scheme with flats and bedsits for the over 60's. A group of our congregation visit their once a month on a Monday morning and lead a short (usually Holy Communion) service for and with the residents.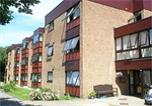 OUR OCTOBER SERVICE
Our service this month had a Harvest theme which was prepared and delivered by Sue. We were a very small group but as always, our time at Hildesley Court was enjoyed.
Jean Wray led us in the opening prayer, and joined by her husband Albert to lead the singing of the Hymns. Unfortunately, our organist was unable to play, Jean and Albert kept us all in tune with their excellent voices.
The Hymns we sang this month were:
Guide me O thou Great Jehovah
O LORD my God when I in Awesome Wonder.
We finished with a good old Harvest favourite
We Plough the Fields and Scatter.
Jean Lockwood read From St Marks Gospel Ch. 4 vs 26—33 and Maggie read a Harvest Reflection.
Anne gave a short address, and was joined by Bea to give the Blessed Sacrements.
Bea gave us a closing Prayer.
Our next service at Hildesley Court will be for Remembrance on November 13th.
Another reading, this time from Bea entitled 'Creative Differences' The lovely 'Immortal, Invisible' followed. Communion was with Anne and Bea.
It is with great sadness that we no longer have Reg – one our longest serving members of the team. Reg went to meet with his Lord on the 24th July, he is very sadly missed by all who knew him.
Pam and Norman Best stepped in to complete the service with another reading and the closing prayer. Our final hymn was 'All Things Bright and Beautiful'.
Our next service is on September 11th.