Hildesley Court is a local Sheltered Housing scheme with flats and bedsits for the over 60's. A group of our congregation visit their once a month on a Monday morning and lead a short (usually Holy Communion) service for and with the residents.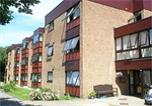 OUR MAY SERVICE
Our service this month was arranged and led by Bea when her theme was weather and the environment. Water featured mainly in her theme and Anne's short but interesting address listed the many references to water in the bible.
Albert opened our prayers, followed by the hymn All Things Bright and Beautiful. Maggie and Jean L both did Bible readings Including Psalm 121 and then Jean W gave us our Eddie Askew reading.
Our other hymns Now Thank We All Our God and New Every Morning all helped remind us of the beautiful world we live in.
Sue and Anne brought us the Blessed Sacraments and Maggie and Anne closed our service with Prayers and a Blessing.
We were pleased to welcome a New Resident to our service this morning, and our next meeting will be on June 17th.