Hildesley Court is a local Sheltered Housing scheme with flats and bedsits for the over 60's. A group of our congregation visit their once a month on a Monday morning and lead a short (usually Holy Communion) service for and with the residents.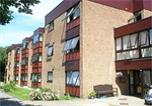 OUR FEBRUARY SERVICE .
The meeting this month was organised by Bea and, as she explained, it was a busy month for possible themes! Shrove Tuesday, pancake day, followed by Ash Wednesday, which is the first day of Lent, a time of reflection, There was Candlemas when Jesus was presented at the temple, lighting candles being symbolic as Simeon said that Jesus was the light of the world. Snowdrops are often called Candlemas bells and herald the earth beginning to wake from its winter slumber. Finally, Valentine's Day when young and old celebrate love. The hymns, bible passage and readings formed part of the above.
Anne based her address on Lent before giving Communion with the help of Sue.
We all enjoyed Hovis scotch pancakes with our morning coffee