Hildesley Court is a local Sheltered Housing scheme with flats and bedsits for the over 60's. A group of our congregation visit their once a month on a Monday morning and lead a short (usually Holy Communion) service for and with the residents.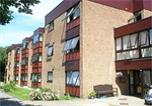 OUR JUNE SERVICE
Jean L led and prepared our service this month with her theme being a thanksgiving for summer. Her welcome referred to the dreadful winter we had all endured on the East Coast and the joy of the summer returning.
Sue gave the opening prayer- a thanksgiving for Creation and our hymns were All Creatures of our God and King, For the Beauty of the Earth and an old Sunday School favourite Summer Suns are Glowing.
Jean W followed this by reading Psalm 104 and Maggie read from a book of Eddie Askew reflecting on that beautiful Psalm, and then Anne and Sue served the Blessed Sacraments.
After Anne's short Address, still on the Summer theme, Albert closed our Service with the final prayer.
It was lovely to welcome Cynthia one of the residents, back after a long illness.
Our next service will be on July 23rd at 10 30.