Hildesley Court is a local Sheltered Housing scheme with flats and bedsits for the over 60's. A group of our congregation visit their once a month on a Monday morning and lead a short (usually Holy Communion) service for and with the residents.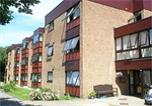 NEWS FROM HILDESLEY COURT
Bea prepared and led our service this month. It was a lovely service with beautiful hymns and readings, and Albert began the service with prayer.
Bea's theme was very much on our Faith, and our first hymn was an all-time favourite of the Hildesley Court Residents, being part of a seafaring community, Will Your Anchor Hold.
Maggie's reading of Psalm 121 – I will lift up my eyes to the hills – brought back memories to us of this well-loved and well known psalm, and then Jean L read one of Eddie Askews down-to earth passages assuring us that living a Christian life can often hurt.
Our next hymn was Just as I am, and then Jean W read the poem -The Gate of the Year
Anne and Sue Offered the Blessed Sacraments and Anne's short address reminded us that we should never be too busy to put aside time to spend with our Lord.
Sue gave us a closing prayer and Anne the Blessing and our final hymn was the beautiful What a Friend we have in Jesus
After our service we retired for tea, coffee and fellowship.
Our next service will celebrate Harvest led by Sue it will be on September 16th when all are welcome to join us.