Hildesley Court is a local Sheltered Housing scheme with flats and bedsits for the over 60's. A group of our congregation visit their once a month on a Monday morning and lead a short (usually Holy Communion) service for and with the residents.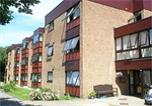 OUR MARCH SERVICE
Sue had prepared the service for March and opened with the Collect for the Second Sunday in Lent. The first hymn was 'Forty Days and Forty nights' and the reading was taken from John Ch.4. Sue's theme was the love of God and there followed a reading from Eddie Askew entitled 'Disguises of Love' read by Maggie.
The next hymn was 'Dear Lord and Father of Mankind' and there then followed Anne's address which was a celebration of St Joseph of Nazareth who is remembered on the 19th March.
Anne and Bea offered the Blessed Sacrament and the Blessing, the final hymn being 'Thou Didst Leave the Throne on High'. Albert read the final prayer. Rev. Sharon Lord will attend next month's meeting which will be held on the 15th April.