Hildesley Court is a local Sheltered Housing scheme with flats and bedsits for the over 60's. A group of our congregation visit their once a month on a Monday morning and lead a short (usually Holy Communion) service for and with the residents.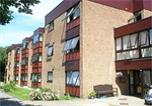 OUR APRIL SERVICE
This month's service at Hildesley Court was arranged and led by Bea. Her theme was Faith which is something of immense importance during difficult and troubled times.
Jean L gave the opening prayer which was followed by our first hymn 'In Heavenly Love Abiding,'
Jean W then read from the ST JOHNS GOSPEL. She shared the story of Doubting Thomas. Followed by Jean L reading Psalm 121, I will life up my eyes to the hills.
After the singing of the hymn 'We Rest In Thee Flowed' Maggie read a passage from Eddie Askew.
Communion followed, led by Anne who gave a short address of the bible. Anne and Bea gave the Blessed Sacraments.
Albert then said our closing prayer which led to our final hymn, 'Lord for the Years.'
Our next meeting at Hildesley Court with be on the 21st May.