Hildesley Court is a local Sheltered Housing scheme with flats and bedsits for the over 60's. A group of our congregation visit their once a month on a Monday morning and lead a short (usually Holy Communion) service for and with the residents.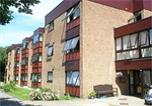 OUR JUNE SERVICE
Our Service this month was led and arranged by Sue, who took Pentecost as her theme.
Albert opened with prayer and this was followed by our first hymn, Father Hear the Prayer we offer. Jean L read two passages from Acts chapters 1 and 2 and these were followed by our second hymn Breathe on me Breath of God.
Jean Wray provided us with a reading from Eddie Askew, entitled 'If only things were different', and then Anne gave a short address on both Pentecost and the Trinity.
Revd Sharon conducted the service of Holy Communion, assisted by Sue, then Anne read the closing prayer followed by the final hymn Thou whose almighty Word.
Our next service at Hildesley Court will be on the 15th of July and will be a Service of the Sea. Members of the fundraising Committee for the Lowestoft Lifeboat will be joining us, and our collection that day will be for them.
All are welcome to join us.