CAR BOOT SALE
Bank Holiday Monday
27th May
Contact Brian Turner on 01502 380766
* * * * *
GRAVEYARD GARDENING GROUP
With Spring here and Summer on the way, our Church graveyard is in need of some TLC.
Can you spare an hour or two on a Friday morning to help? Every Friday from 9am to 11am (refreshments will be provided), just please turn up (if you can bring a few gardening tools please do so). Thank you.
* * * * *
P A K E F I E L D S I N G E R S
Present a Concert
"Love's Journey"
Saturday 1st June
7.30pm
Tickets £6.00 each -available on the door
All money raised will go towards the Church Thatch Fund.
* * * * *
TE D D Y E D W A R D C LUB
Wednesday 5th June
1.30pm to 2.30pm in the Church
Teddy Edward is for parents, grandparents or carers with babies and toddlers run by members of our Mothers' Union Branch at Pakefield. We meet with Teddy Edward on the 1st Wednesday of the month in church, from 1.30-3.00pm. We have a story from the Bible, sing some songs, play with toys and whizz around on the trikes! We enjoy snacks and the adults have a cup of tea or coffee.
* * * * *
C H A R I T Y A B S E I L
Are you brave? Do you want to take a risk?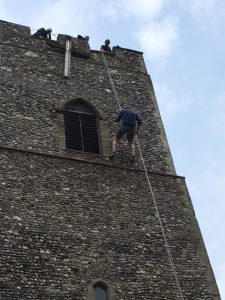 If so, book a place to abseil down the Church Tower on Saturday 8th June
10.00am to 5.00pm
Refreshments available in the Church Hall

M E S S Y CHURCH…
…is in the Church on Thursday 13th June
from 3.30pm to 5.30pm
Messy Church is a monthly time of getting messy, and making crafts while learning and exploring more about Jesus and God's love for us. We have a different theme each time, we sing action songs, hear God's word from the Bible and pray together, and our popular puppets always make an appearance to sing a song!
* * * * *
YARMOUTH BRASS BAND
CONCERT
SATURDAY 29TH JUNE
7.30pm
Tickets: £7.00 obtainable at the door
* * * * *
S U M M E R F E T E
Saturday 13th July
2.00pm – 4.00pm
Book the date Now !
* * * * *
'T H E G R E A T E S T S H O W M A N'
this is the theme of this year's Holiday Club for children age 5 – 11 living in Pakefield and Carlton Colville.
This year's event will be held at St Peter's Church, Carlton Colville, NR33 8AU
from
30th July to 1st August
10.00am to 2.00pm
Pre-booking is essential: email eastcoastholidayclub@gmail.com
Call: Angie on 07584 136402 or 01502 511072
* * * * *

Our Alpha Course will begin on Thursday 26th September
7.00pm to 8.30pm
Please contact Revd Sharon Lord on 01502 516800
or on rev@lord-family.co.uk
for further details

.