PLEASE SCROLL DOWN – there's lots to see!
GRAVEYARD GARDENING GROUP
With Spring here and Summer on the way, our Church graveyard is in need of some TLC.
Can you spare an hour or two on a Friday morning to help? Every Friday from 9am to 11am (refreshments will be provided), just please turn up (if you can bring a few gardening tools please do so).
Thank you

.
* * * * *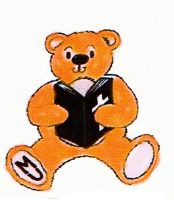 Teddy Edward's Tots in Church – 1st Wednesday of the month – 1.30-2.30 pm !
Next Meeting – 6th November 19 at 13.30 in Pakefield Parish Church
Meet Teddy Edward and his friends as we hear stories, sing along and play instrument plus fun with the toys and trikes.
Refreshments provided.
No charge and all are welcome.
Just come along to Pakefield Church 1st Wednesday of the month 1.30 p.m. or contact Roz Bird on

M E S S Y CHURCH is back in the Autumn….
…
from 3.30pm to 5.30pm
Messy Church is a monthly time of getting messy, and making crafts while learning and exploring more about Jesus and God's love for us. We have a different theme each time, we sing action songs, hear God's word from the Bible and pray together, and our popular puppets always make an appearance to sing a song
* * * *

Our Alpha Course will begin on Thursday 26th September
Next Meeting Thursday 31st October -7.00pm to 8.30pm
Located in the Church Hall
All Welcome – Come for one week, some weeks or every week and discover more about Christianity
for more about Alpha visit their website: https://alpha.org/
So what is Alpha all about? It is an opportunity for you to have a conservation about faith. It is an opportunity to explore life and the Christian faith in a friendly, open and informal environment.
You are invited to Alpha!
For some great coffee/tea cake, even better conversations and talks that make you think
There is no exam (!!), there is no compulsion for you to say anything.
We usually start with watching a talk , then we have a cuppa and a slice of cake, before having a conservation about the things we saw in the film, and thinking about what was said.
Perhaps you do have questions though, so come along and find out what it is all about!
There is no need to book, but it will us if you do, to know how many cakes to bake!
Please contact Revd Sharon Lord on 01502 516800
or on rev@lord-family.co.uk for more information
******
Wednesday 30th October 19 – 7.30 pm
Pakefield Wives Meeting – Church Hall
* * * * *
Pakefield Parish Church Patronal Cafe
10.00 am to 12.00 pm
Friday 25th October 19
Friday 1st November 19
Friday 8th November 19
This very popular café will return at 10.am to noon, when you will be able to enjoy the famous "sea breeze" butties, homemade cakes, along with other goodies, tea and coffee and plenty of good company.
All proceeds in aid of the Pakefield Church Restoration Fund
Come and enjoy a cuppa and some fellowship with friends!
* * * * *
Pakefield New Wine hosts a Games night in aid of the Alzheimer's Society
Pakefield Church Hall
Friday 1st November 2019
7.45pm until 9.30pm
Come along for an evening of board and table games, no experience necessary, just a joy for games.
This is not just for New Wine members ALL WELCOME!
There will be all sorts of games to try out, you can swap about or just play one game all evening.
We ask for a donation of £5 each towards this fundraising event.
* * * * *
Lowestoft Lifeboat Fundraising Branch
COFFEE MORNING
PAKEFIELD CHURCH HALL
Saturday 2 November 2019
10 am to 1.00 pm
* * * * *
Service of Memories
Sunday 3rd November 19
4 pm – Pakefield Parish Church
Remembering those we have lost
(Formal Bereavement Service)
* * * * *
Remembrance Day Service
Pakefield Parish Church
"Lest we forget"
Sunday 10th November 19
10.30 am
* * * * *
Armistice Day Service
Monday 11th November – 10.50 am
There will be a short service around the War Memorial outside the Church
* * * * *
Pakefield Singers
A Christmas Hallelujah
Saturday 30th November – 7.30 pm
Tickets £10 (aged 16 and under are free)
Doors open 6.45pm – unreserved seating
* * * * *
Pakefield Church's Christmas Fayre
7th December 2019 – 1.30pm to 3.30 pm
Location : Pakefield Parish Church Hall
Christmas gifts and craft stalls
Bric a brac, books and bottles
Raffle Prizes
* * * * *