Saturday 1st July was a great success thanks to the work of so many, many hardworking people and the weather!  – and of course all those who came along to support the work of our church and have a very enjoyable afternoon whilst doing so!
Both outside and in there were many and various stalls were full of goods to buy from books to crafts, jewellery to toiletries, plants to sweets; cakes, burgers, teas and drinks were available to refresh everyone; lots of crockery got broken by people letting go of any stresses; games and raffles to have a go on and lots more.
Also, approximately 90 brave teddies and other special friends of the many children (and adults!) present were able to enjoy themselves by sliding down the zip wire on this hot sunny day! Below are a few pictures taken on the day which in the end raised over £2086.00 for church funds.
Roz and Sheila registered the bears before they went up the tower.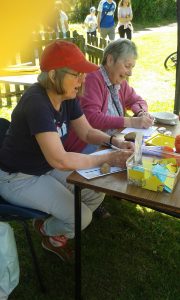 My bear's almost here!
Outside,  our Burger Masters' getting a bit over heated with the sun plus the barbecue!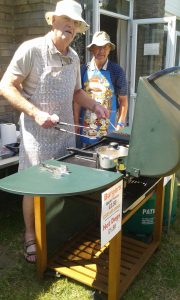 Anne and Sue rang the raffle this year whilst keeping in the shade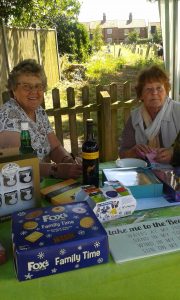 Inside  the tea tables were ready to go at 2.00pm!
As always, jewellery, bags and scarves were popular with the ladies – and the men!
Toni-ann was also selling her hand made jewellery are knock-down rates!
and Sandra our church warden took charge of the huge donated raffle in a basket which raised over £110.00!
.