Two services were held on 3rd December, the first featuring the choir made up of our CYM children and at the second a DVD was included showing an amusing take on the Nativity from New Zealand.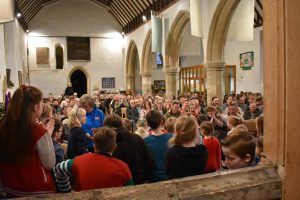 Before the first service at 4pm the Christingles had been prepared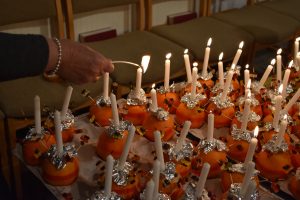 The church soon became full, with extra seats having to be put out.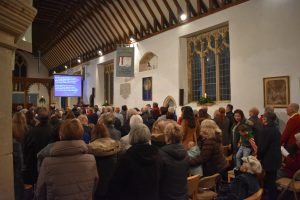 The meaning of the Christingle was explained by Trudie and later all the children went to collect their lit Christingles which were then paraded around the church.
Everyone ended up on the steps of All Saints'. Then after the lights were turned off and a song sung, the Christingles were safely extinguished and everyone returned safely to their seats, with some of the sweets already being eaten!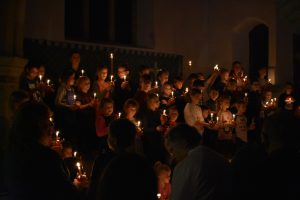 Towards the end of the service during the singing of a song, a collection was taken so anyone who had not returned their Children's Society collection boxes could give to this very worthy cause.
At the end of each of the services as adults and children set off into the darkness of the winter evening, they took with them the light and joy of these lovely services, setting the scene for the Christmas Services ahead.