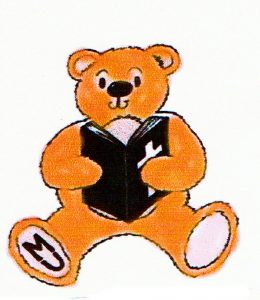 ………is for Parents/Grandparents or carers with babies and toddlers run by members of our Mothers' Union Branch at Pakefield. We meet with Teddy Edward on the 1st Wednesday of the month in church, from 1.30-3.00pm. We have a story from the Bible, sing some songs, play with toys and whizz around on the trikes! We enjoy snacks and the adults have a cup of tea or coffee.
MARCH NEWS
At the meeting on the 6th March it was an all-girls assembly, all able to find the many things hidden in the church but more of that later. Little Ted brought along his friend, Patch the rabbit and they asked me if Jesus had any friends. I assured them he certainly did but his special friends were the apostles and here are their names: Peter, Andrew, James, John, Philip, Bartholomew, Thomas, Matthew, Jude, another James, Simon and Judas. Together they had lots of great adventures. Little Ted and Patch wanted to help with the story by putting names on the front of the teddies (representing the apostles) and then hiding them in the church. All the girls went off to find them but when Sheila counted them there were two missing but Roz had an idea and they were soon found. It's a secret where they were! We can be sure, said Roz, that Jesus is our friend too and loves us.
We meet again on the 3rd April at 13.30 hours in Pakefield Church all are welcome to hear stories, sing songs accompanied by our musical instruments and time to play with toys and bikes whilst parents and carers enjoy refreshments and a chat.
No meeting in August but a very special one on 6th September as we say farewell to Bob. Not only is he good at prayers but he is our Chief Rocker of Babies. Although some schools are starting their new term during that week, the times may be staggered so perhaps some of our past members may be able to come with their mums so we can say the biggest A…M…E…N — EVER!
…to send him on his way in our special style !
Some photos of Teddy Edward and friends old and young !