STOP PRESS NEWS !
Big Ted abseiling down the church tower with a friend ! – more details coming soon!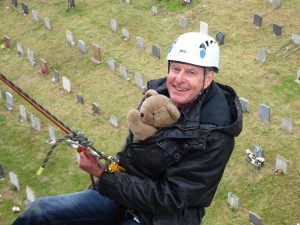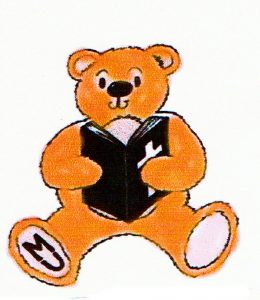 ………is for Parents/Grandparents or carers with babies and toddlers run by members of our Mothers' Union Branch at Pakefield. We meet with Teddy Edward on the 1st Wednesday of the month in church, from 1.30-3.00pm. We have a story from the Bible, sing some songs, play with toys and whizz around on the trikes! We enjoy snacks and the adults have a cup of tea or coffee.
JUNE NEWS
Roz began the meeting on the 5th June commenting on the warm weather and the delight of wearing our summer clothes. However, there had also been lots of rain which is, of course, good for our fields and gardens. She asked, had anyone been on the beach or even in the sea and reminded us that Rev. Sharon was going to baptise Jodie, Sarah and Holly in the sea this month. Next a prayer of thanks when we thanked God for the rain and sun.
Little Ted and me, along with Roz, Sheila and Bea, went to church to see Jude, Teddy and their big sister Larna attend the wedding of their mum (Jodie) and dad (Leigh). It was very exciting as there were lots of their friends and relatives looking smart in their best clothes. Jude looked really grand in a suit just like his Daddy. The organ burst into life and we all stood up as it was time to see the procession down the aisle, Roz held Little Ted and me aloft so we could see. Jodie arrived looking very beautiful in an amazing sparkly dress. Rev Sharon explained that Jodie and Leigh were going to make special promises to each other and to God to love and care for each other. Jude had the rings, wasn't that a huge responsibility.
Roz had a bible story all about a wedding in Cana which Jesus and his mother, Mary, attended. Mary noticed that the wine was running out and she asked Jesus if he could help and he did something amazing. He asked the people pouring the wine to fill the empty wine bottles with water which he turned into the best wine. This was the first miracle Jesus performed. Roz explained that if we ask God for help he can get us out of all sorts of muddles because he loves us.
Roz had lots of exciting things to relate; firstly, she asked if anyone had seen all the scaffolding around the church heralding the arrival of the thatcher to make a new roof. The church fellowship has been raising the money to pay for this for a very long time and yet even more is needed. Therefore, to raise further funds, people were sponsored to abseil off the church tower. Rev. Sharon will be the first to go and she is taking Little Ted and me with her but we must hold on very tightly.
You can hear how we got on at our next meeting which is on the 3rd July when Sheila is going to tell the story as Roz's family will have arrived from Australia and they are all going on holiday to Yorkshire and she will tell us all about her adventures in August.
No meeting in August but a very special one on 6th September as we say farewell to Bob. Not only is he good at prayers but he is our Chief Rocker of Babies. Although some schools are starting their new term during that week, the times may be staggered so perhaps some of our past members may be able to come with their mums so we can say the biggest A…M…E…N — EVER!
…to send him on his way in our special style !
Some photos of Teddy Edward and friends old and young !