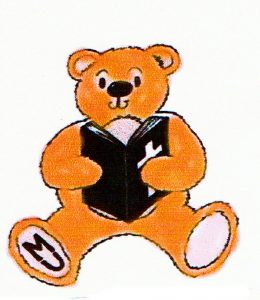 ………is for Parents/Grandparents or carers with babies and toddlers run by members of our Mothers' Union Branch at Pakefield. We meet with Teddy Edward on the 1st Wednesday of the month in church, from 1.30-3.00pm. We have a story from the Bible, sing some songs, play with toys and whizz around on the trikes! We enjoy snacks and the adults have a cup of tea or coffee.
MAY NEWS
When we met on the 1st May I was very excited to tell members that Little Ted and me (I'm Teddy Edward) went to a farm at Easter. There was so much to see and we both particularly liked stroking the goats and sheep. Roz therefore thought it was time for the story of the lost sheep which we will call Baa because that's what it sounds like when the lamb calls for its mother.
Jesus liked to tell stories with a hidden meaning and this is such a tale. First, we had to find our Baa, we did have a lamb but it was missing! Roz asked Sheila if she had seen it but she hadn't. Baa wasn't far away though and it was Lila who found him. The farmer of our story looked after a flock of sheep with their lambs and when he finished counting them it was obvious one lamb was missing. He looked in the haystack, under the hedge, behind some trees but it wasn't in any of those places. The shepherd widened his search; he climbed the hills and over the rocks and at last he found the lamb, it had fallen in the river. Thankfully, the shepherd did not give up, he looks after every one of his sheep and it is the same with Jesus, He never gives up on us and will always look after us, especially when we are 'lost',
Katey was present and this time with her little brother, Lucas, who is one year old this month. We did sing our birthday song but he was fast asleep!!!
Of course our song was Baa Baa Black Sheep and, a favourite with members, Twinkle, Twinkle Little Star.
It was soon playtime for members and refreshments for everyone.
Please come to our next meeting on the 5th June. New members are very welcome, we meet at Pakefield Church 13.30 hours the first Wednesday in the month. Come and meet new friends!!!
No meeting in August but a very special one on 6th September as we say farewell to Bob. Not only is he good at prayers but he is our Chief Rocker of Babies. Although some schools are starting their new term during that week, the times may be staggered so perhaps some of our past members may be able to come with their mums so we can say the biggest A…M…E…N — EVER!
…to send him on his way in our special style !
Some photos of Teddy Edward and friends old and young !