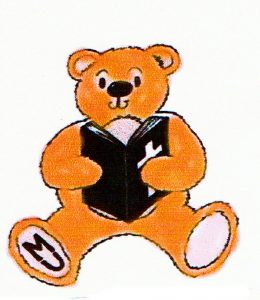 ………is for Parents/Grandparents or carers with babies and toddlers run by members of our Mothers' Union Branch at Pakefield. We meet with Teddy Edward on the 1st Wednesday of the month in church, from 1.30-3.00pm. We have a story from the Bible, sing some songs, play with toys and whizz around on the trikes! We enjoy snacks and the adults have a cup of tea or coffee.
October 19 News
TEDDY EDWARD REPORT
(RUN BY MEMBERS OF THE MOTHERS' UNION)
Teddy Edward here reporting on our October meeting: which was very special as we welcomed new members and also former baby-no-name who we welcomed as a new born at our last meeting and is now named Vaya. Roz made introductions all round. First prayers and then a story; Little Ted had remarked in the week how much he liked coming to the Teddy Edward Club, we meet not only with present and new members but, out of term time, we catch up with our older members now at school.
Little Ted's favourite is the story which this time was about little children who nearly didn't get to see Jesus telling stories when he was visiting their village. They had asked their mummy if they could go and, when she had finished her chores, they set off. When they arrived, they saw there was a huge crowd listening to Jesus and were very disappointed as they couldn't see or hear him. They asked the disciples surrounding Jesus if they would take them to the front but they said that Jesus mustn't be disturbed. As they turned away, Jesus said 'WAIT', he had heard their request, and added "Let the little children come to me, they are as important as the adults, God loves us all". The children went away happy.
Whilst refreshments were being served, Roz took the opportunity to mention that here at All Saints we have much going on for children. For example, Messy Church for all ages where you may be dancing, singing, crafting, playing games and so much more, followed by food In the church hall. Sunday Club and ALL AGE WORSHIP takes place once a month. Then there is the Tuesday Groups for all ages from four years held every Tuesday in term time. For information on the above please phone Katey Mills, our Children and Family Leader on 07834910714.
Finally, it was time for music and playtime with favourite action songs 'Wind the Bobbin Up' and 'Twinkle Twinkle' after which we were joined by former members calling in on their way home from school to collect their siblings.
See you again on the 6th November, 13.30 hours, All Saints Church, Pakefield. Visitors and new members are very welcome.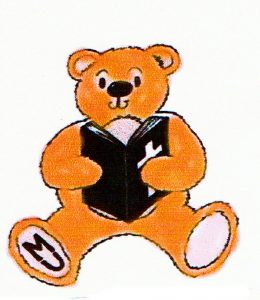 No meeting in August but a very special one on 6th September as we say farewell to Bob. Not only is he good at prayers but he is our Chief Rocker of Babies. Although some schools are starting their new term during that week, the times may be staggered so perhaps some of our past members may be able to come with their mums so we can say the biggest A…M…E…N — EVER!
…to send him on his way in our special style !
Some photos of Teddy Edward and friends old and young !