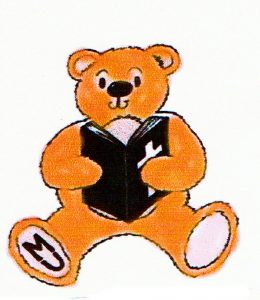 ………is for Parents/Grandparents or carers with babies and toddlers run by members of our Mothers' Union Branch at Pakefield. We meet with Teddy Edward on the 1st Wednesday of the month in church, from 1.30-3.00pm. We have a story from the Bible, sing some songs, play with toys and whizz around on the trikes! We enjoy snacks and the adults have a cup of tea or coffee.
DECEMBER NEWS
It was a very exciting meeting on the 5th December, not only was it our tea party but Sheila came back after her operation and recovery, Sharon and Katey were there too and lots of our usual members, eager to listen again (or for the first time) to the story of the birth of Jesus. This is how it begins…
Mary, the mother of Jesus, was visited by an angel who advised her that she was to have a special baby – God's son – and Joseph, father of Jesus was asked to take care of them. They had to travel a long distance to register on a census. There were no cars, trams, aeroplanes in those days so Mary rode on a donkey. When they arrived at their destination – Bethlehem – there were so many people that there was nowhere to go to rest and they were both very weary. They tried hard to find accommodation until a kindly Innkeeper said they could have his stable which, of course, was full of animals and it was here that Mary gave birth to Jesus, wrapped him in cloths and laid him in a manger, a very humble beginning. An angel said to three shepherds that they should follow the bright star which would lead them to worship this holy child.
This, of course, is the beginning, there is much more…the story goes on at our next meeting on the 2nd January.
Birthdays! This one is very special, can anyone say who it could be, asked Roz, and it was Katey (Jnr) who knew and we sung the birthday song. Hang on though it is also Sheila's special day this month, so we sung it again.
Before our special time of musical instruments and songs, Roz took the opportunity to present Simon with a box of chocolates and to thank him as he always sets up our meetings bringing all our toys and cycles etc. to the church from our shed and also providing the music which this month was 'Twinkle, Twinkle, Little Star' and 'Little Donkey'. The table was laden with all the special things we love as treats and we made short work of it all!

No meeting in August but a very special one on 6th September as we say farewell to Bob. Not only is he good at prayers but he is our Chief Rocker of Babies. Although some schools are starting their new term during that week, the times may be staggered so perhaps some of our past members may be able to come with their mums so we can say the biggest A…M…E…N — EVER!
…to send him on his way in our special style !
Some photos of Teddy Edward and friends old and young !